Dewar, Ann Marie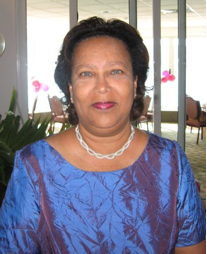 Ann Marie Dewar is a trained teacher who holds a Bachelor of Arts (Honours) degree from the University of the West Indies and a Master of Arts in Education from the University of London. She has had a productive and successful career both in education and public service.
Ann Marie has been involved in the performing arts for over 40 years as singer, choral director, producer, stage manager, actor and costume maker. She is also an accomplished 'creole' poet, with her work appearing in a number of local, regional and international publications, including the following:
Benson, Robert (ed). One People's Grief: New Writing From The Caribbean. Pacific Quarterly Moana. 8.3. New Zealand, 1983.
Fergus, Howard (ed), HOPE: Fiftieth Anniversary Poetry Anthology. Plymouth, Montserrat: UWI, School of Continuing Studies, 1998.
Gilman, Sander and Xun, Zhou.       Smoke: A Global History of Smoking. London: Reaktion Books Ltd., 2004.
St. John, Bruce (ed). La Montee, La Sabida. Poetry Chap Book Series 3, Cave Hill, Barbados: UWI Press, 1985.
She has been honoured with a Funkyman award in 2004 and an OBE in 2006 for her services to Montserrat.