Eprile, Tony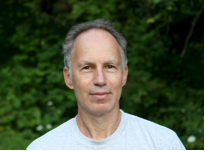 Tony Eprile grew up in South Africa, where his father was the editor of the first multiracial mass-circulation newspaper, The Golden City Post, and of Drum Magazine. He is the author of The Persistence of Memory, a novel exploring three decades of South Africa's turbulent political history as seen through the eyes of a shy protagonist with a perfect memory. The novel won the Koret Jewish Book award, was a New York Times Notable Book of the Year and a Washington Post Best book. It was also longlisted for the Dublin Impac prize and the Sunday Times (South Africa) Fiction Prize. His collection of short stories, Temporary Sojourner, was also a NY Times Notable Book and was reissued in 2011.
Tony recently completed a memoir about his family's move from South Africa to England: God Save Your Bloody Queen
His writing explores the impact of politics and racial tensions on everyday life, addressing serious issues with a sense of humor. He has also written "response stories" or countertellings of late-colonial writers (such as Ryder Haggard and Rudyard Kipling).
He is the recipient of grants from the National Endowment for the Arts, the Ingram Merrill Foundation, the Hadassah-Brandeis Institute and elsewhere, has been a Fellow at Bread Loaf and received residencies at MacDowell, Yaddo, and Djerassi Foundation. He has written about food for Gourmet magazine, the anthology Man With a Pan (Algonquin), and Alimentum. His essays and book reviews have appeared in The Nation, Details, and The New York Times. He lives in Bennington, VT, has taught at many of America's universities, including the Graduate Writers Workshop at the University of Iowa, and currently is on the faculty of Lesley University's low-residency graduate program in Creative Writing.