MacIntosh, Llewellyn or Short Pants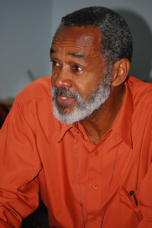 Veteran calypsonian SHORT PANTS (Llewellyn MacIntosh) has been singing in Calypso Tents for over thirty years.
He began his calypso singing career at the Calypso Theatre in 1975. He was at the Regal in 1977 and at Kitchener's Calypso Revue in 1978 and 1979. He sang at Shadow's Masters' Den during the years 1980 to 1987 and after the Den closed, Short Pants sang with Spektakuka Forum in 1990. Together with some of his friends he managed the Vintage Calypso Tent which operated for just one year; 1991.
In 1992, Short Pants travelled to San Fernando and performed with the Kaiso Showkase until 2011.
Short Pants is well known for the strong lyrical content of his calypsoes and for his extempore singing. He has been a regular finalist in the National Extempo Competition and in the various Independence Calypso competitions. He has been a National Calypso Finalist twice; in 1979 and in 1993.
He has been, as well, a regular performer with Paul Keens Douglas and the Talk Tent where he recites his calypsoes in a new genre that is called Talkalypso. Short Pants has won the Talkalypso Competition on three occasions. He is the current champion.
Short Pants has also penned a number of excellent calypsoes for his children; two of whom have won the National Junior Calypso title. His younger son Richard won the Junior Natonal Calypso Monarch title in 1994 and his daughter Heather won the National Calypso Queen title in 2002 and 2011 and has been a national finalist on nine occasions. Short Pants has written all of her calypsoes.
In 2010, Short Pants won the Humourous Calypso Category Finals with a composition about the Tiger Woods' affair, called The Infidel.
Short Pants has been the Master of Ceremonies or emcee at Cro Cro's Icons Calypso Tent since 2012. He also hosts the very popular radio programme the Kaiso Kafe on Sunday afternoons on Talk City 91.1 fm.