Taylor, Keith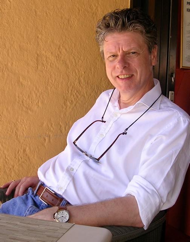 Keith Taylor is a director, writer and cameraman. With a wealth of experience in the world of television and other media, he successfully combines his creative talent and his technical expertise.
He studied Art & Design at Hampton School of Art and started his theatrical career in 1969 as an assistant stage manager with the National Tour of Hair. He also toured the UK as company manager with the Royal Ballet's Ballet for All. He stage managed West End productions including Grease, Hair and Brown Sugar and worked in London's Criterion Theatre, The Donmar Warehouse and The Piccadilly Theatre. He moved to The National Theatre as design assistant, working on set design and prop making. He then went on to write for children's television and wrote comedy sketches for the BBC's popular Playaway and Fast Forward.
In 1986 he became creative director in charge of writing, programme development and production design of the company Floella Benjamin Productions which he co-founded with his wife, Baroness Floella Benjamin.
The programmes he has created and written for children all have a strong educational theme along with content designed to advance their development. Treehouse, Playabout, Hullaballoo and Jamboree are among his notable achievements. He gives talks to young people on image, attitude and presentation to improve their employability.
He has also written and directed educational, lifestyle, travel programmes and documentaries for adults such as A Taste of Cuba, Taste of the Caribbean, Africa on a Plate and Statues and Monuments. He directed Coming to England for the BBC, a dramatic production that won a Royal Television Society Award in 2004. More recently, he has written and directed a 42 part radio comedy Hey Diddle Diddle as well as Floella's Story Sack.